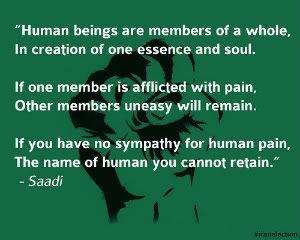 1. Exploiting Iranian Poet Sa'adi: I'm not gonna lie, it sort of annoys me to see so many Iranians using Sa'adi's humanistic poem to get non-Iranians to care about Iran, but they themselves fail to recognize the poem's meaning and disregard the rest of the world. Do these same Iranians who are posting this poem all over the net care about human suffering elsewhere, like in Iraq, Afghanistan, or Palestine or do they not matter because they are not Iranian?
2. Mousavi Details Alleged Fraud: In a 24-page document posted on his Web site, Mousavi's special committee studying election fraud accused influential Ahmadinejad supporters of handing out cash bonuses and food, increasing wages, printing millions of extra ballots and other acts in the run-up to the vote.
3. Iran clerics defy election ruling: A group of clerics in Iran has called Iran's presidential vote invalid, contradicting official results. The pro-reform group's statement pits it against the top legislative body, which last week formally endorsed the re-election of Mahmoud Ahmadinejad. On Saturday, former President Akbar Hashemi Rafsanjani said that post-election events had caused bitterness.
4. Top Reformers Admitted Plot, Iran Declares:  Iranian leaders say they have obtained confessions from top reformist officials that they plotted to bring down the government with a "velvet" revolution. Such confessions, almost always extracted under duress, are part of an effort to recast the civil unrest set off by Iran's disputed presidential election as a conspiracy orchestrated by foreign nations, human rights groups say.The government has made it a practice to publize confessions from political prisoners held without charge or legal representation, often subjected to pressure tactics like sleep deprivation, solitary confinement and torture, according to human rights groups and former political prisoners. Human rights groups estimate that hundreds of people have been detained.
5. Fears grow for Iranian detainees: First the mass protests were suppressed by force, then came the mass arrests. Three weeks after Iran's disputed presidential election, scores – possibly hundreds – of opposition supporters and prominent reformists remain in prison. Their families have had little or no information about their fate. Most are too worried to speak to the press now. They describe a climate of terror in Tehran.
6. Iranian hardliner calls opposition leader US agent: A top aide of Iran's supreme leader called the country's main opposition figure a U.S. agent and accused him of committing crimes against the nation in an editorial Saturday. The editorial represents the first time that Mir Hossein Mousavi, who ran for president in Iran's June 12 elections, has been publicly called a U.S. agent. "It has to be asked whether the actions of (Mousavi and his supporters) are in response to instructions by American authorities," said Hossein Shariatmadari in an editorial appearing in the conservative daily Kayhan. Shariatmadari, who holds no official position but is a close adviser to Iran's supreme leader Ayatollah Ali Khamenei, added that Mousavi was trying to "escape punishment for murdering innocent people, holding riots, cooperating with foreigners and acting as America's fifth column inside the country."
7. U2 Goes Green: See the concert video here.