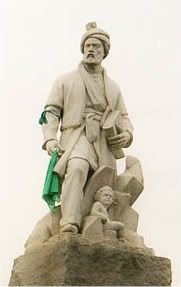 1. Today's Protest: "Hundreds of thousands of protesters wearing black and carrying candles filled the streets of Tehran again Thursday, joining opposition leader Mir Hossein Mousavi to mourn demonstrators killed in clashes over Iran's disputed election."
2. Friday: The Mousavi camp has called for a day of mourning across Iran and for protestors to either go inside mosques or march through the streets. Khamenei is expected to give an important Friday sermon where he will no doubt address this week's demonstrations.
3. Tehran University: Tehran University, one of Iran's historic centers of political activity, has seen numerous raids by Basij militiamen. Dormitories have also been raided in universities across the country. See the footage of the mess left behind by the militiamen at Tehran University here.
4. Slogan from the Demonstrations: Ya Hussain! Mir Hussain!
5. Columbia University Professor and Expert on Iran Gary Sick on the Revolutionary Guards: "On the other side, the very little evidence we have suggests that the important decisions are being made by the ultra-conservative leadership of the Revolutionary Guards, whose political role has ballooned over the past decade, perhaps in cooperation with their extremist counterparts in the clergy. They are utterly ruthless and ideologically fueled."
6. University of Michigan Professor and Expert on Iran Juan Cole on Obama's Approach: The regime's attempt to paint the protesters as nothing more than US intelligence agents underlines how wise President Obama has been not to insert himself forcefully into the situation in Iran. The reformers and the hard liners are not stable groupings. The core of each is competing for the allegiance of the general Iranian public. If the reformers can convince most Iranians of the justice of their cause, they will swing behind the opposition. If the hard liners can convince the public that the reformers are nothing more than cat's paws of a grasping, imperialist West– i.e. that they are Ahmad Chalabis trying to bring Iran foreign occupation so as to get power themselves– then the reformists will be crushed. Iranians value national independence above all, having suffered with a CIA-installed goverment for decades in the mid-twentieth century. The prescriptions of John McCain and Faux Cable news for muscular US diplomacy at this point are tone deaf to Iranian realities and would backfire big time, harming both the reform cause and US interests. Anyway, after the basket case to which the US Republican Party reduced Iraq, no one in the global South is likely to want them meddling in their internal affairs.
7. The Daily Show on Iran and the Daily Show on Team Melli's Solidarity.